In this tutorial I will be demonstrating how to complete a VirtualBox installation allowing you to install Primavera P6 on a Virtual Machine. In my previous posts I discussed the reasons why a Virtual Machine (VM) is the best way for a scheduler to run Primavera P6. Below are the links to those posts:
Requirements
For this tutorial am going to be using VirtualBox, because it's freely available allowing us to get started up quicker. For this tutorial you're going to need the following:
3 hours minimum: 1.5 hours for the installation and set-up of VirtualBox. 1.5 hours for the installation of the Microsoft Windows client system. This does not include the installation of Primavera P6 and the P6 database
A basic understanding of how to navigate Microsoft Windows you will need this to download and install the program.
A PC with the Windows Operating System. This isn't a hard requirement, but the directions I'll be supplying will be for Windows.
128 gigabytes of free hard drive space. This will be used to hold the entire virtual machine. This includes P6, Microsoft SQL Server, or Oracle's SQL Server.
8GB of RAM: The more RAM the better, but 8GB of system memory is enough.
The VirtualBox Windows Installer: I will go over how to get this.
VirtualBox 5.1.8 Oracle VM VirtualBox Extension Pack: I will go over how to get this.
An Unused Microsoft Windows Licence and Install Media: You will need this to create a Windows Virtual Machine.
Know How to Install Primavera P6: This is not needed for this tutorial, but you will need to do this to get Primavera P6 up and running within the VM. If you need help doing this I will post a tutorial on how to do it shortly.
Warning:
This tutorial requires you download software off of the internet and install it. While this is a common everyday occurrence the process is not without risk. You should always make sure to completely and verifiable back-up your system before downloading and installing anything from the internet, and this tutorial is no the exception. Before actually perform Step 1 you should have read through all the steps in this tutorial first and have decided if this is for you. Once you are ready to start the installation process please close down all open programs. As a rule you should not be installing this on a production system if this is you first attempt.
Disclaimer:
You are following this tutorial at your own risk. I have no idea if this will work without issue. All I can say is that these are the steps that I took and it worked fine for me. That is no guarantee that this will work for you. Proceed at your own risk. As with the installation of any software you should be prepared for things to go wrong, and should have a full system back ready to go if any issues arise.
---
Downloading VirtualBox
Your first step is to download the VirtualBox Installer from VirtualBox.org. Go ahead and click on the large Download VirtualBox button (fig. 1) that looks like the following link:

This will take you to the download page (fig. 2) pictured below: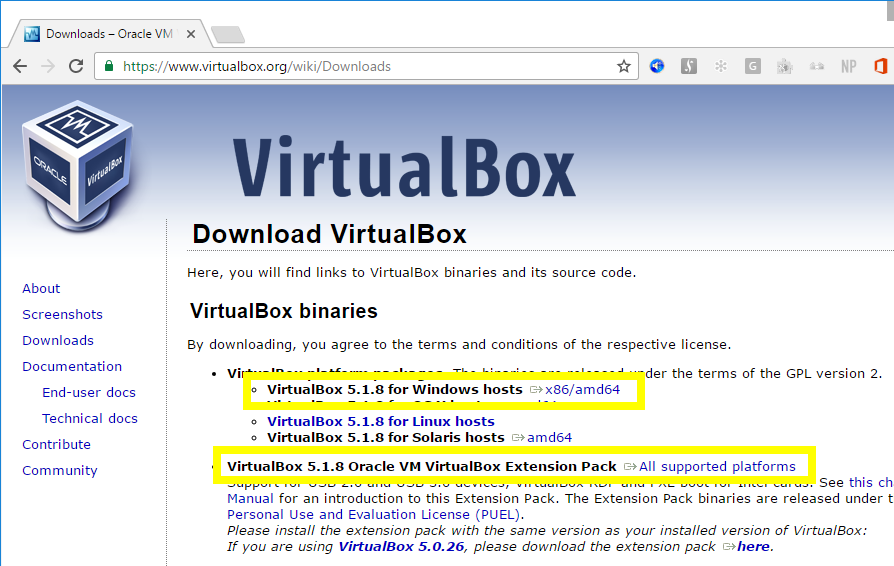 You need to download both of the circled files.
Starting the VirtualBox installation
Once both files have downloaded you are ready to start your VirtualBox installation. Go to where you downloaded the files to and open the installation file. The file I downloaded was titled "VirtualBox-5.1.8-111374-Win.exe". The following window should appear (fig. 3), click next: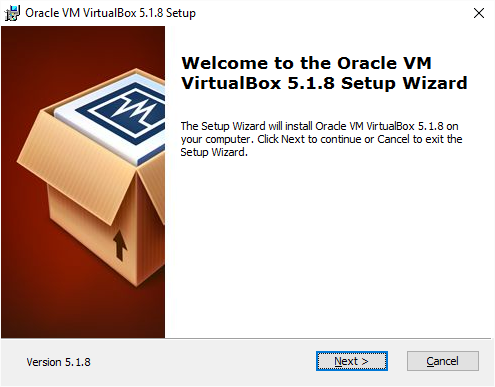 After clicking next the VirtualBox installation feature selection windows (fig. 4) appears, the default options are fine, so go ahead and click next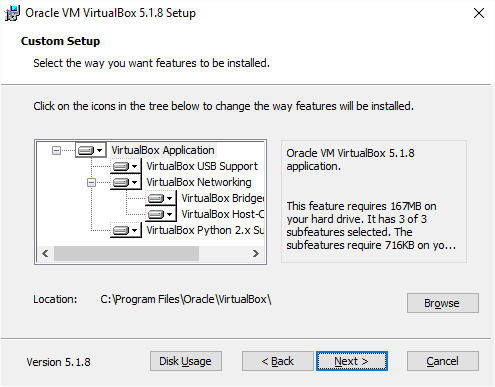 In the VirtualBox installation Option Selection Window (fig. 5) You can un-select any option you wish to, except the "register file associations" option. This will be used later on after we have completed the VirtualBox installation.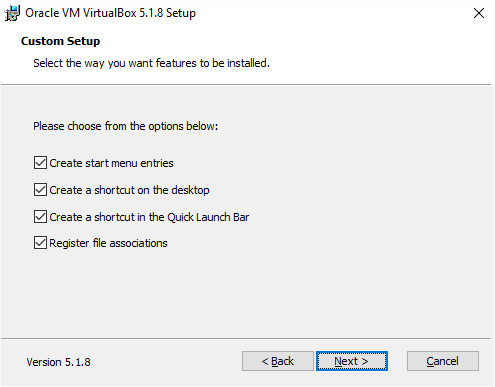 Network Interfaces Installation
After the options window, the Network Interfaces Warning Window (fig. 6) appears. Read it carefully and determine if you are ready to proceed with the installation.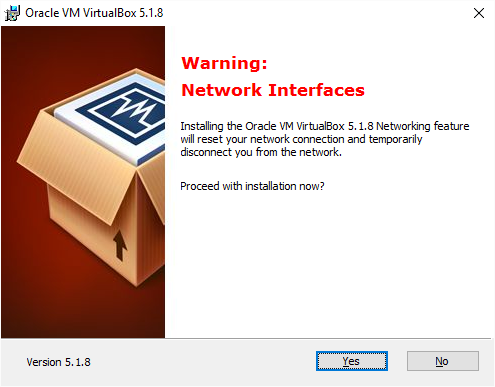 Review and Install
After the Network Interfaces Warning Window a window asking if you are ready to start the VirtualBox installation appears (fig. 7). If you are ready, go ahead and click the "Install" button.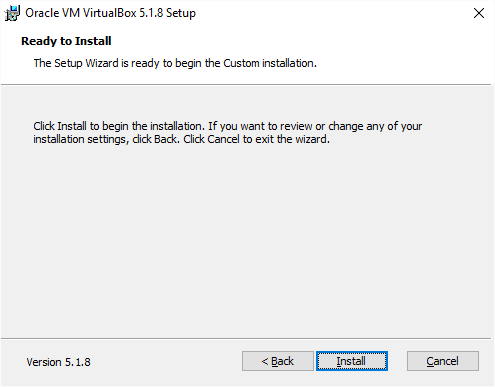 The Installation Progress Window will open up (fig. 8) showing you the progress of the VirtualBox installation.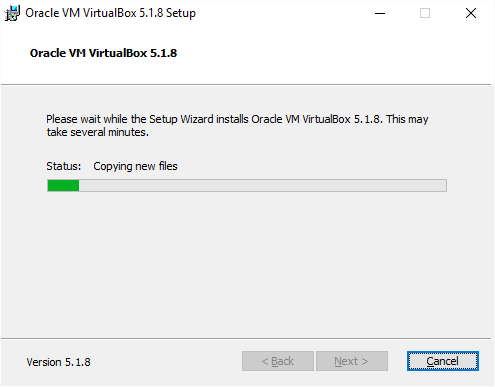 VirtualBox System Drivers
During the VirtualBox installation process a number of Windows Security dialogs (figures 9, 10, and 11) will pop-up. I needed the functionality that these drivers provide the client system, so I installed them all.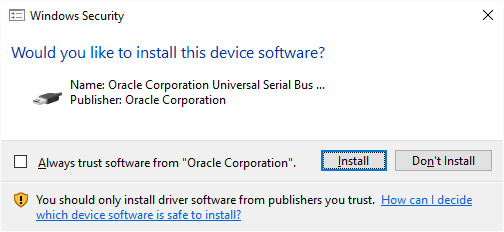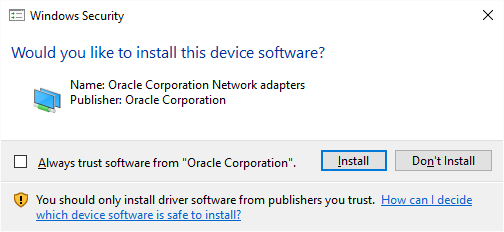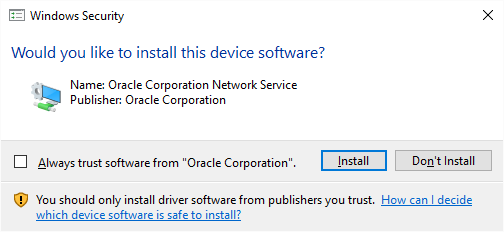 Restarting After Completing the VirtualBox Installation
Once the VirtualBox installation completes, the installer will ask if you want to start VirtualBox after you finish the installation (fig. 12). I would recommend not starting the program after installation. Instead, un-check the checkbox next to "Start Oracle VM VirtualBox x.x.x after installation" and click finish. Then restart your computer.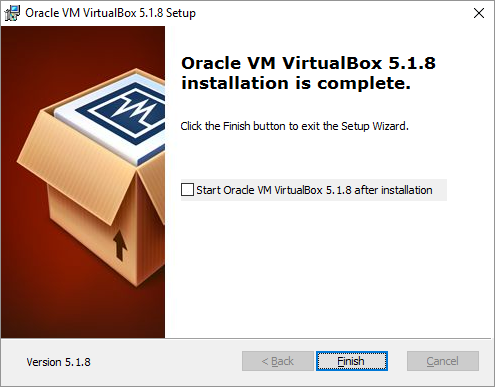 Installing the Oracle VM VirtualBox Extension Pack
After MS Windows restarts you should brows to where you saved the second file that you downloaded from the VirtualBox download page, the Oracle VM VirtualBox Extension Pack. This is probably titled similarly to: "Oracle_VM_VirtualBox_Extension_Pack-5.1.8-111374.vbox-extpack". Double click the file, wait a moment or two wile VirtualBox opens up. Once it opens up it will display the dialog box displayed in (fig. 13) below. If you are sure you downloaded it from a trusted source click the "Install" button.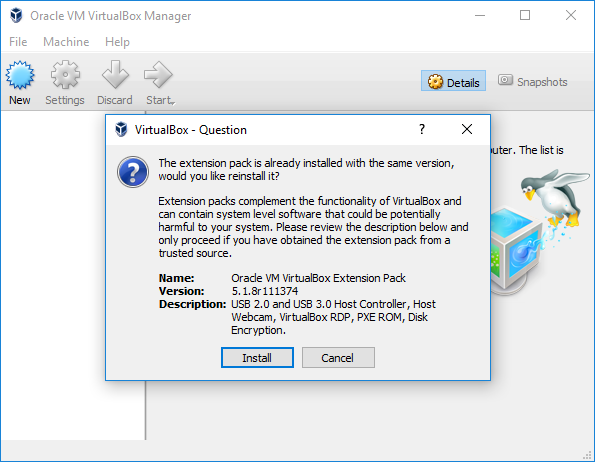 A Good Place to Stop
Here is a good place to take a break. At this point the VirtualBox installation is complete, and the Oracle VM VirtualBox Extension Pack is installed. You can find Part 2 of this series here. Part 2 will walk through the steps of setting up a virtual disk. Subsequent articles will go over installing Microsoft Windows and then Primavera P6 as well as Primavera P3. Links to those articles will be added to this one. Please post in the comments if you have any questions.